TUCSON- The Tucson Police Department is asking for the public's help identifying a suspect in connection to a home invasion Monday afternoon.
According to TPD, a female was returning to her house near North 1st Avenue and East Fort Lowell around 3:45 p.m., when a man forced her inside at gunpoint.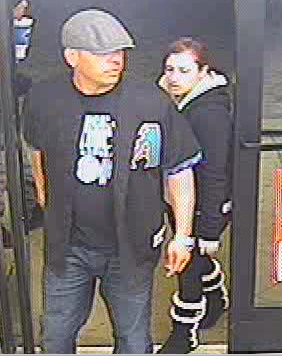 PHOENIX -- Phoenix police are asking the public to help identify two suspects in a residential burglary.


Read more: http://www.azfamily.com/news/Phoenix-police-need-help-identifying-burglary-suspects-288745641.html#ixzz3OwCoTxFl
Phoenix suspects wanted burglary ?
The30-year-old woman was bound, while the suspect stole items from her purse, TPD said.
"There were threats to my life, he said he would kill me, he would kill my dogs," said the victim." "Yeah, multiple threats during that time."
TPD detectives learned the suspect attempted to use the woman's stolen credit card an hour after the home invasion at the Fry's Supermarket at 555 E. Grant Road.
Police say the suspect is a Hispanic male between 25 to 35 years old, with short brown hair. He is 5-foot-9-inches tall and between 190 and 200 pounds.
The man was last seen wearing a red, long-sleeve hooded shirt with an unknown woman.
Anyone with information is asked to call 911 or 88-CRIME.